Want to try the M4 Super90 but a little short on NX? Why not try it for FREE?
What to do:

Complete 10 matches on Waverider per day (on any server)

What you get:
Get a 1-Day M4 Super90http://combatarms.nexon.net/Shop/ItemDetail.aspx?itemId=393&order=393&cat=2&subCat=8&is_sales_tab=false&sales=2&status=0&pageIndex=1&orderType=1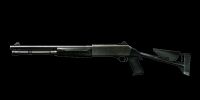 When do you get it?
Instantly!
As soon as you complete 10 matches on Waverider, it will be in your Inbox. Don't see it? Try changing servers. Still don't see it? Make sure you actually played 10 matches!
When can you do this?
Every day from August 18th, 2010 to August 25th, 2010 at 11 am PDT
You can play 10 matches on Waverider and receive a FREE 1-Day M4 Super90 each day. That's up to 8 FREE 1-Day M4 Super90's!
Wondering what's so great about the M4 Super90?
The M4 Super90 is a powerful shotgun that deals damage to even the strongest of opponents.
You can read more about it
here in the Arsenal.
http://combatarms.nexon.net/Shop/ItemDetail.aspx?itemId=393&order=393&cat=2&subCat=8&is_sales_tab=false&sales=2&status=0&pageIndex=1&orderType=1